Discover over
350

 500 publishers with the Dossier, a board game publisher database.

Dossier: a collection of documents about a particular person, event, or subject.

Sure, making games is a lot of fun… but researching publishers? It's one of those tasks that gets put off until next week… or next year… Maybe you've heard of a few publishers accepting submissions, or you've reviewed your own shelf of games… but you might be wondering how many others are out there.

Presenting the Dossier, a database of board game publishers. It's full of researched details and insight into publishers across the board game industry. This is essentially the same exact board game publishers database I've used to pitch my own games, just with confidential items or items related to my own games removed. I've also added insights into the games a publisher makes, and continually add or update information whenever I learn something new. 
What does the Dossier include?
A publisher's listing in the Dossier has the following details, as based on public information and personal insights:
Basic info
Contact info
Social media (currently tracking Facebook, Twitter, Youtube, Instagram, and an 'Other' column)
Convention presence (do they attend Essen, GenCon, Origins, PAX Unplugged, and/or the UK Games Expo?)
What sort of games they want (kid's games, casual / party games, family / gateway games, medium-weight games, heavy-weight games, and/or RPG's?)
Other notes and insights
Here's how a listing looks: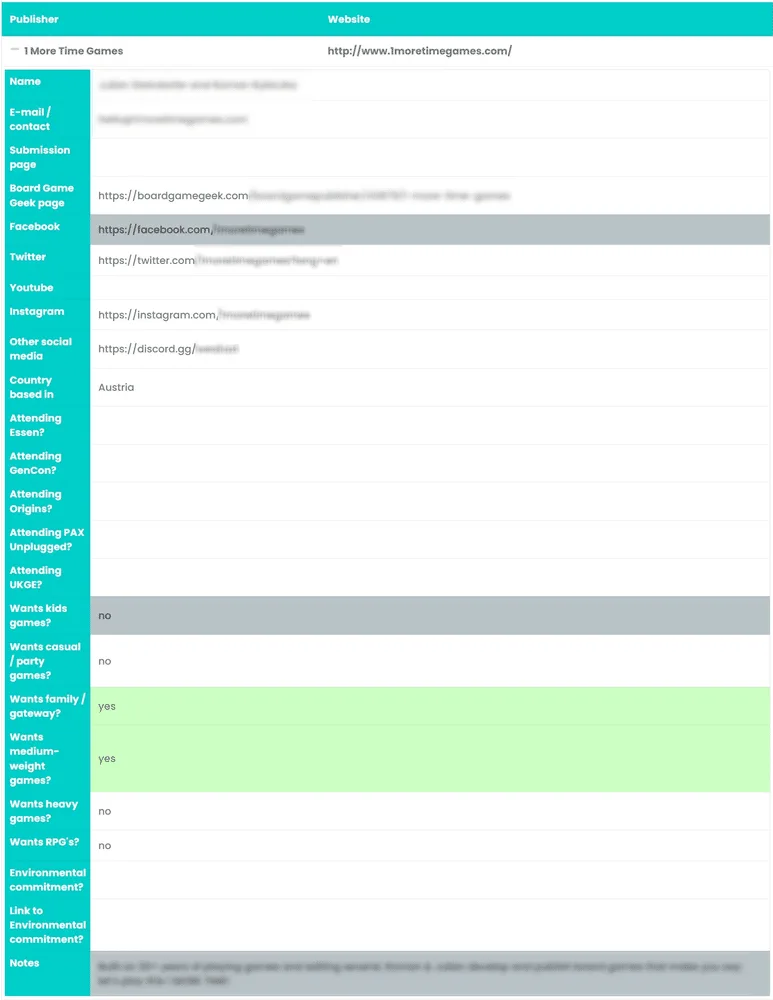 One satisfied customer (thanks Christian K.!)

$49.99
Lifetime access to the Dossier - carefully curated info to save you weeks of research.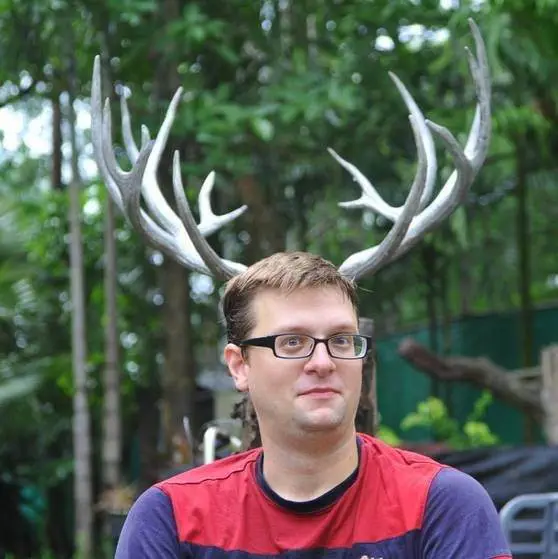 About me
I'm Chris Backe (rhymes with 'hockey') – you might know me from Entro Games (where I make games), Virtual Playtesting (where I help to run one of the biggest online playtesting groups), No Box Games, or any number of Facebook groups that talk about making board games. If we haven't met yet, I've been making tabletop games since 2016, and currently have 15 signed games and one Kickstarted game.
Part of pitching is researching, and I used to hate researching because it took so long. I got better at it over time, mainly because I realized just how important it was to pitch correctly… especially as an unpublished designer. Once you have some published games and a reputation, sure… but until then, you've got to prove yourself… and that means pitching correct.
Sort and filter away!
Everything in the Dossier can be sorted or filtered. Say you want to find publishers that attend Essen and are looking for kids games.
Boom. Four clicks, about five seconds. Go from over 350 publishers to 54: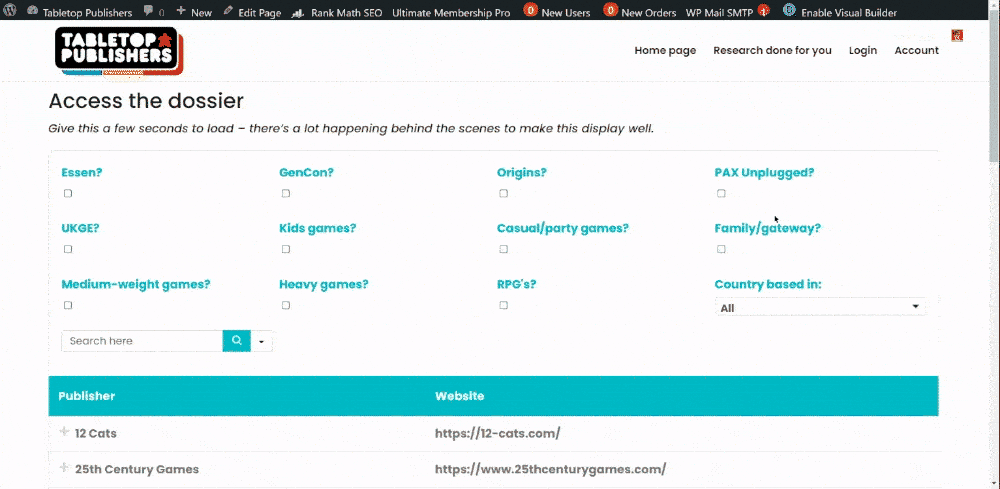 …or say you want to find the publishers that go to Gen Con and make family games….
Four clicks. Five seconds. Narrowed down. Done.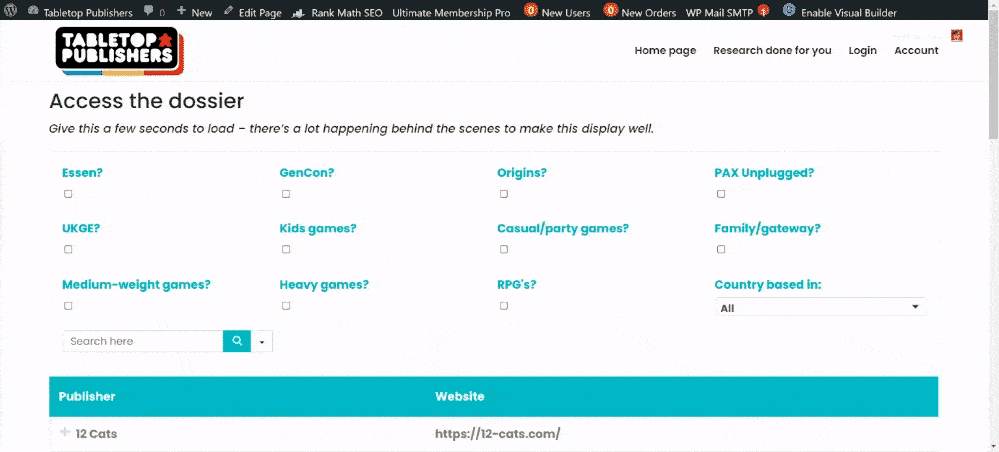 $49.99
Lifetime access to the Dossier - carefully curated info to save you weeks of research.
What makes the Dossier different?
Search, sort and filter to your heart's content.
It's up-to-date, and will stay up-to-date since it's the same database I use to pitch my own games.
It's comprehensive but curated — from big publishers to small, across North America, Europe, and Asia, and beyond.
The publishers in this list have all worked with outside designers in the past or have something saying they're looking for submissions. If neither of us is true, they're not here – I track them behind the scenes. If I learn that changes, it's updated in two clicks and a few minutes =)
All details are public information (anything relating to my own games or anything shared in confidence is not here)
I use a paid web monitoring service to automatically monitor hundreds of specific pages for changes — when there's an update, I get an e-mail to check it out.
Get lifetime access for a one-time fee.
What else do you get?
A Google Sheets template to help you track your pitches: who you pitched, when you pitched them, and their responses. Here's how it looks:

A post detailing the best practices of pitching in a step-by-step process.
That warm, fuzzy feeling from supporting an independent small business.
Got a question? Reach out:
Now, to the legal disclaimers (read the full terms of service here):
The information contained in this site is provided on an "as is" and "best effort" basis with no guarantees of completeness, accuracy, usefulness or timeliness. Any actions you take upon the information are strictly at your own risk. I assume no responsibility or liability for any errors or omissions in this information, and I am not responsible for the content of other websites. Consider this a foundation for your own research, not a substitute for further research.
You are free to use this information to help you pitch your own games. Your access may be restricted or blocked if you copy, resell access to, give away access to, or otherwise redistribute the collection of information inside this database. Your access will definitely be blocked if you spam people.